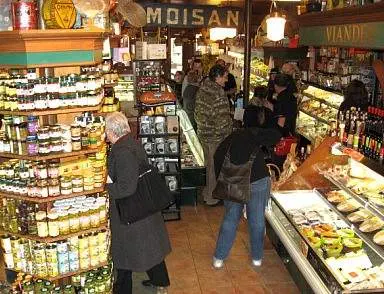 Fantastic food choices:
Breakfast
Dollar:
Auberge Saint-Antoine's Panache-a luxuriously overhauled maritime warehouse offers a surprisingly warm and cozy atmosphere, partic if you are seated by the crackling fireplace overlooking the magnificent St. Lawrence River. The Poached Eggs on a Spinach Puff Pastry, Prosciutto Chips (loved these puppies) and Cheese Sauce provide a delightful twist to an old fave. The brekkie amuse-bouche, a berry smoothie in a mini-glass was a sweet touch. Even the "Healthy Breakfast" with homemade granola bar, cranberry muesli and fresh fruit plate looked quite tempting with its profusion of colors and textures.
Cents:
Café Krieghoff B & B
Located off the main drag, on trendy Avenue Cartier, this kick-back café drips with old-world charm. Start with an excellent espresso and then choose a hearty eye-opener such as the house omelet, eggs Benedict, or crepes with maple syrup. Up a steep flight of stairs next door brings you to their recently renovated inn which offers a handful of pleasant rooms with equally pleasant prices.
Progressive lunch
Dollar:
St. Jean Street
I dare you to come up with a regional gourmet product that isn't carried at J.A. Moisan, the oldest grocery store in North America, operating since 1871. It's the stuff foodies dream about with over 10,000 gourmet products artfully arranged throughout the 5,000 s.f. food emporium. Choose from the finest local and imported game, poultry and meats, baked goods, prepared foods (local pâtés, salads, sandwiches, pizzas, sauces), oils, vinegars, chocolates, coffee, tea, spices, wines, etc. The cheese section offers a bewildering 300+ varieties but don't miss trying Le Paillasson, North America's oldest cheese.
When I asked the passionate owner how he makes his selections he replied,
"If it reminds me happily of my back time (early memories) then I think it will be a winner."
Chocoholics should cross the street to Choco-Musée Érico, at 634 St-Jean St. Master Chocolatier, Eric Normand, was born with a sweet tooth so selecting chocolate as his artistic medium was a no- brainer. His flavor profiles run the gamut from the exotic (Ceylon curry or chipotle) to local faves (maple butter or salty caramel).Treat yourself to a cup of steaming, hot spicy Mayan chocolate while you browse through the unique chocolate museum, featuring various chocolate works of art as well as over 200 objects tracing the history of the infamous bean.
Cents:
Pick up picnic fixings at the Marché du Vieux-Port (Old Port Market) an old-style public food market popular with both the local chefs as well as tourists. In the growing season it swells to over 100 booths filled with farm-fresh produce. But if you're visiting in December, check out their bustling Christmas Market, where along with delicious local specialties (many from Île d'Orléans) such as ice ciders, meat pies, incredible sausages and cheese, maple products and canned, potted or preserved goods, you'll find local artisans selling jewelry, artworks, and clothing (stock up on the hand-knit woolens) in colorfully decorated stalls.
If the vendors aren't too busy, chat them up for recipe ideas or tastings.
A few standouts: Comptoirs du Terroir ( stock up on their black currant liqueur by Cassis Monna et filles, checked-luggage worthy) smoked fish by Fumoir Atkins, the ciders and apple products by Cidrerie Verger Bilodeau Nutra Fruits- which specializes in 23 cranberry products, from cranberry/chocolate spread to their award-winning Cranberry, Blueberry and Green Tea Salad Dressing and exotic spices from La Route des Indes.
Dinner

Dollar:
Le Saint-Amour a.k.a. foie gras heaven. I don't care how many artery-clogging calories it has, you must order their signature appetizer, Decadence: 7 artisanal variations on fois gras. (Fois gras bonbons with chocolate, anyone?) If you're trying to show a little restraint, you could simply request a foie topping on any main course. Or order the Discovery menu which offers an embarrassment of culinary riches at a very reasonable price, which you can settle back and enjoy in any of the three dining rooms. The romantic indoor garden with a high glass-domed ceiling gets my vote.
Father and son chef team:
After working many years on the creation of this landmark restaurant, veteran Chef Jean-Luc Boulay, an early proponent of sous-vide cooking, is now running the catering division and has passed the restaurant toque over to his well-mentored (and very cute) son Frederic.
Toast!
Toast has it all going on and provided my most memorable meal of the trip.
Outstanding food simply yet beautifully presented, modern chic décor, great wines, perfect service, plus the fact that after spending an hour roaming the Market with Chef Christian Lemelin, it became wildly apparent that this impressive, amazingly talented yet humble young chef is going to a leading force in the creation of tomorrow's gastronomy. He had me at the goose breast and foie served over a bed of light spaghetti squash treated like risotto and finished me off with luscious apple and Riopelle cheese pastry topped with almond milk ice cream.
Another fan of the foie, Leminlin told me, (his face was still beaming) that his proudest moment was, "after Thomas Keller ( French Laundry, Per Se) ate at Toast he told me, Congratulations. Your fois gras was exceptional."
Cents:
Hot off the press: the winning team from Toast! (Chef Lemelin and front-of-the-house manager/ sommelier extraordinnaire, Stephane D'Anjou) decided to take pity on those with gourmand tastes and PB & J budgets by opening Simple Snack Sympatique, right next door. This brand new venture will be open for lunch and dinner and will feature gently-priced reinvented snacks ( such as a not-so-traditional cheese sandwich which will be made from artisanal goat cheese, air-cured beef, half-cooked organic egg oozing over a toasted homemade brioche—yum!) plus a large selection of Quebecian wines by the glass.
Details:
Bonjour Quebec, the go-to site for all your Quebec travel needs (hotel, restaurant, event calendar and sightseeing suggestions which run the gamut from Intensely Urban to Infinitely Nature) will prove indispensible when planning your next getaway.