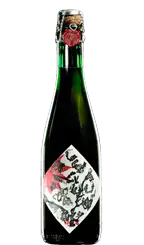 Coming from the Jacobsen brew house 'Carlsberg Jacobsen Vintage No1' has created its own place as one of the most expensive brands of beers priced at $350. There are only 600 bottles that were brewed and currently it is widely discussed among the various connoisseurs of beer.
Jens Eiken, Head Brewer at Jacobsen feels that though the manufacturing of this brand of beer started as an ambition to create something new, but the chemical processes during ageing brought out a different taste of the beer which was awesome.
You can get this brand of beer in 3 of the prime restaurants of Copenhagen, Denmark. This beer is  a wine with 10.5% ABV Barley.
The grists comprise of Maris Otter Imperial malt, Maris Otter pale ale malt, and caramel malt. There is addition of Invert sugar within the four hours wort boiling. At 25°C this beer is fermented including English ale yeast.
There are flavours of vanilla, smoke, caramel and port in this beer as they are matured on 'Swedish or French Cote dór oak casks'. You will surely relish the bitter yet smooth taste of this beer. You will have the tastes of Maillard, Schiff, Amador and Strecker in this beer.
Via: carlsberggroup.com