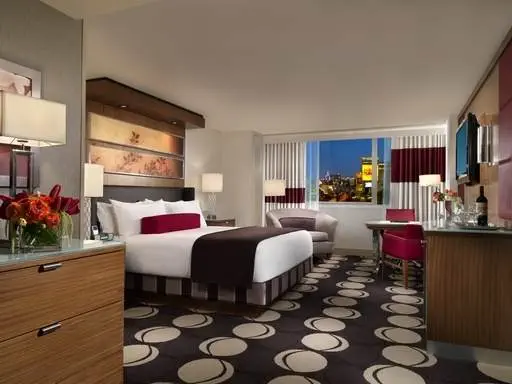 The Mirage is a fantastic hotel. Located in the middle of the strip, it's within walking distance of the Bellagio, Paris and Caesars. The rooms are wonderful, admittedly the bathrooms are on the small size, but they have everything you could need, with snazzy toiletries.
Even though it's a huge hotel, the layout of the Mirage is excellent, unlike some of the other giant hotels, the restaurants, casino, shops and pool are all located close the elevators for the guest rooms, so you can easily grab a meal, shop and gamble, without feeling like you've walked for miles like in some of the other hotels. We didnt experience any noise like some reviewers claim. It's a spectacular hotel, rooms are immaculate, the beds are amongst the comfiest I've ever slept in, and the range of facilities second to none.
The bed was – no lies – the most amazing bed we have ever slept in. Room amenities included minibar/fridge, 42″ plasma TV (loads of channels), air con, robes, wall safe and toiletries. We didn't have a Strip view room, but our room was at the back of the hotel so we had a view across to Caesars, Paris and Planet Hollywood – no complaints about that! The staff we encountered were all friendly, the décor was pleasant and with the choice of restaurants, gaming and shops downstairs I cannot think of a single reason that would stop me recommending The Mirage to anyone!
The casino was expansive, we did get lost a few times in there. It was well air-conditioned and the girls serving drinks were quick and friendly. We saw the Beatles Love show and was simply the best show we have ever seen, gob smacking to say the least! If you are there you must see it! I could go on forever…it was amazing! If you can get a good deal then book it!