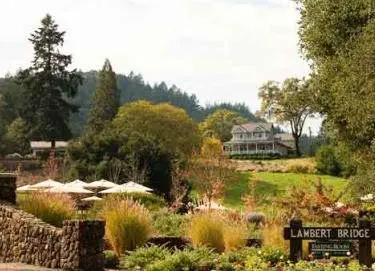 Lambert Bridge
That evening, as I drove cross the old trestle bridge and caught my first glimpse of the winery nestled into the hillside, it's stone and rough wood lodge-like tasting room surrounded by an old-fashioned wrap-around porch (a perfect spot for sipping the afternoon away) it brought to mind a Rockefeller Great House.
Two gigantic wooden doors opened to the vaulted redwood tasting room, where about 50 guests were doing a little pre-dinner mingling, enjoying Hors D'Oeuvres and a glass of white wine in front of the welcoming stone fireplace before heading into the elegant candlelit Barrel Room.
I was introduced to Lambert Bridge's gregarious winemaker, Jill Davis, who's been producing some pretty spectacular artisanal Bordeaux-styled wines since her first vintage with Lambert Bridge in 2006. Previously, Davis made a name for herself at Beringer Vineyards, Buena Vista Winery and William Hill Winery. She's passionate about creating classic wines in the old world style: rich, elegant and polished.
During dinner, Jill stood up and proudly introduced us to her brand new associate winemaker and longtime friend, Jennifer Higgins, who also has a stellar background in producing boutique Bordeaux varietals. It was exciting to be at the threshold of what I'm sure will be a revolutionary "Women in Winemaking" dream-team.
The Crane Creek Cuvee were all incredible with a cornucopia of flavor profiles, allowing for some spirited discussions at our table, as to which year paired better with each dish. I could definitely ascertain the different jammy red fruits, tobacco and leather notes, but shhhhh…they lost me at the pencil shavings.
Paula Le Duc's food was not only delicious but beautifully presented. My favorite combos were the 1994 Crane Creek Cuvee with the Crisp Pork Belly and the 2002 vintage with the peppery, coriander flavored Grains of Paradise Pappardelle topped with Oxtail Ragout.
Although the 1997, 1998, and 1999 vintages are sold out, there are still many excellent years available. Jill vouched for the 2007 as a youngster with a lot of promise in the future. So, if you haven't been before, I suggest the next nice weekend you plan a tasting (and a picnic) at the winery. The wines aren't cheap but are well worth twice the price.
They also have a full calendar of special events that you can peruse on their website as well as information on joining their Liquid Assets wine club. One particularly fun sounding event is April's Sausage Making class led by the master himself, Bruce Aidell.
Lambert Bridge Winery
4085 W. Dry Creek Road
Healdsburg, CA. 95448
Phone: 707-431-9600