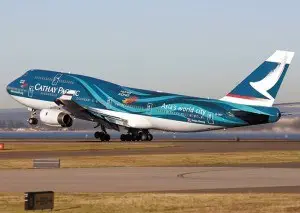 I've had the pleasure of flying Cathay Pacific Airways a few times over my decades of travel, but being pampered by one of the world's most highly acclaimed carriers takes service to a decidedly higher level.
In First Class, Cathy Pacific Airways offers more than 20 combinations of meals, along with the industry's first on-board rice cooker, skillet for omelets, toaster, and other amenities to better serve its passengers. The menu states you'll be pampered with an array of foods, from take-off to landing, and that's an understatement.
Speaking of First Class, the 747 has been reconfigured to accommodate some of the largest suites in the industry and may rival the size of some New York City studio apartments. They feature wider beds that fully recline; individual closets to store your clothes and laptop; HD TVs that are larger than most computer screens; hundreds of choices for movies, music and games; mini-tables that fold away so you can have a business meal or chat face-to-face with a traveling colleagues, and more.
In Business Class, there are similar high-level amenities such as wide seats, more legroom, and impressive meal choices.
Both First and Business Class on Cathay Pacific Airways' long-haul flights feature its enhanced Audio Video on Demand, which gives you total control of over 100 movies, 350 TV shows, 888 music CDs and programs in nine languages.
For 2010, Cathay Pacific is offering an All Asia Pass, encompassing 42 cities through its Hong Kong superhub. With this pass, you can experience the thrill of visiting some of the world's most culturally diverse cities on your terms. The All Asia Pass is available for use between February 2 through May 17, 2010, and August 17 through December 1, 2010.
Prices from a Cathay Pacific Gateway city are:
• Hong Kong + 2 basic Asian cities, $1,599*
• Hong Kong + 3 basic Asian cities, $1,899
• Hong Kong + 4 basic Asian cities, $2,199
* The $1,599.00 price is for Monday – Wednesday mid-week long-haul travel only. Price does not include U.S. taxes, fees and security charges of approximately up to $60.00 per person or foreign taxes and fees of approximately up to $120.00 per person per foreign airport departure. Prices are applicable to U.S. residents with U.S. mailing addresses only. For additional information, refer to the Official Rules. Taxes and fees are subject to change without notice.