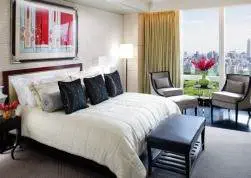 Mandarin Oriental
This Five-Star Columbus Circle property combines the best West Side location in the Time Warner Center, with (Far) Eastern sensibilities. Elevators whisk you up to the 35th floor lobby (280 ft. above the masses) where you are welcomed by an inscrutable Buddha, an elegant Chihuly sculpture and a breathtaking view of Central Park. I was lucky to be staying there during a snowstorm, which I think the hotel (with their attention to detail) might have graciously arranged just for my viewing pleasure.
The sumptuous rooms are Asian-inspired and decorated in dramatic oriental red and black with silver or gold accents. They all offer incredible floor-to-ceiling views, cutting-edge entertainment technology and beautifully appointed marble bathrooms. The Mandarin Oriental is home to the Asiate restaurant (ranked as one of New York's top restaurants serving Asian-inspired contemporary cuisine, again with those million-dollar views), a 14,500-square-foot, five-star holistic spa that offers customized "journey of the senses" treatments, and a state-of-the-art fitness center with complimentary water, tea and morning coffee.
G.G. Bonus Points:
– We loved the selection of complimentary bedside books that you're allowed to take with you in case you aren't finished.
– Their in-room laptop charging safes are a brilliant idea.
-You couldn't ask for a more perfect location during bad weather since you can take the elevator straight to the exclusive Time Warner shopping center, which is filled with luxe boutiques, a variety of eateries from the elite Per Se to a bustling Whole Foods, and then take in a little jazz at Lincoln Center without once stepping foot outside.
-Double Bonus points for their 75-foot indoor lap pool with sweeping views of the Hudson River to keep you motivated.
GG Hot Tip:
Be sure and check their website for creative package savings such as their Suite Temptations (free night on them) or their Warmth and Wellness Spa special.