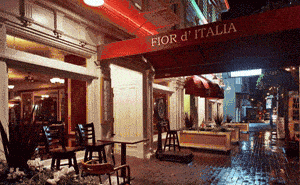 I have to admit whenever I hear of a restaurant that claims to be the best or the oldest I tend to be a bit weary. So when I heard that Fior d'Italia was the oldest Italian restaurant in the States I was a bit skeptical. To begin with it seemed like a bit of a stretch, and then I always believe if an eatery has to rely on a tagline versus the quality of the food than it seems a bit fishy. Well…I was wrong on both counts. Fior is indeed the oldest Italian restaurant in America ( I did a bit of digging…check out their website if you would like to learn a bit more www.fior.com) and tag line schmag-line…the food was top notch.
The decor of the restaurant is classic Italian, but is laid out in a contemporary fashion that allows for large groups, private parties and a small intimate dining experience. The owner, Bob Larive, hit the nail on the head when he showed me a private little area tucked away along the side of the restaurant. It did indeed look like a meeting spot for the Gambinos or the Sopranos.

We started with the calamari, which was bountiful in size. We did manage to gobble every last morsel up and had plenty of room for our entrees. I was told on good authority that the cioppino was their house specialty. It was absolutely delectable. The marinade was oh-so good and didn't over power the seafood in the least. I did however have a bit of an embarrassing moment when I became a bit to aggressive with a piece of crab. I launched it across the table and squirted a bit of the sauce on my face,arms and shirt. After collecting myself and cleaning up a bit I was a bit sad about the wasted crab.
They say you could eat out at a different restaurant each night for 4 years in San Francisco and never eat at the same place twice. I would make Fior a weekly ritual if the commute wasn't so long. When I go back to San Francisco, this will always be on my list of restaurants to go to. The food will tantalize your taste buds and make you want to eat every last morsel of food.
If you want authentic Italian cuisine and terrific service go to the Fior d' Italia. They are America's Oldest Italian Restaurant for a reason.