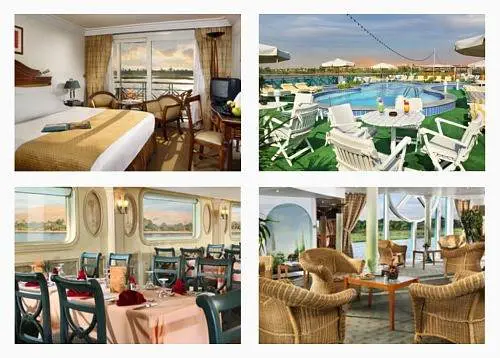 Sonesta Moon Goddess
I'm not what one would call a cruise lover. Actually, I usually dislike them intensely. Everything from the mediocre all-you-can-eat buffets to the substandard "talent" shows leaves me cold.
But a recent four-day Nile cruise on the intimate Sonesta Moon Goddess proved the major exception to this rule. It was the complete opposite of everything I dislike about cruising. Making your languid way down the Nile on a motorized riverboat, lounging Cleopatra-style on a private wrap-around deck, sipping wine and eating grapes as the sunset reflects off the sparkling water—now that is a magical way experience Egypt.
What to expect onboard
The Sonesta Moon Goddess, known as one of the best ships on the Nile, has forty-eight cabins and four suites—all with private balconies, unlike most other ships. My roomy suite had a nicely appointed living room, a comfy bedroom, a modern bathroom, a huge closet and two TVs. The top level of the ship featured a spacious sundeck, a shaded lounge, a bar, and a small pool; elsewhere, there was also a bar/disco, a small but adequate gym, a massage room, a boutique, and even a laptop with internet service available at an hourly rate.
Moon Goddess suite, poolside,diningroom and lounge
Visions of people stuffing themselves at the buffet aside, the food on board was surprisingly good. Breakfast and lunch were served buffet-style and offered a myriad of international choices, including a variety of salads, seasonal veggies, and lots of fresh fruit, as well as five or six hot entrees and about the same number of freshly baked desserts. (My only complaint: for American tastes, the daily roast meat was overcooked.) After an exhilarating day touring the sights, I looked forward to relaxing over afternoon tea with homemade treats, served daily on the upper deck. The final night, we were invited to a scrumptious barbecue dinner in a romantic candlelit setting under the stars, where I finally got to try a classic Egyptian dish: koshary, a conglomerate of macaroni, rice, lentils, and chickpeas topped off with chili sauce and fried onions…which isn't exactly barbecue, and, it turns out, is a bit of an acquired taste.
But the Moon Goddess's greatest amenity may not be its rooms or its food: I was greatly impressed by the graciousness and professionalism of the staff aboard the Moon Goddess. For example, only minutes after my arrival on board, I received the following phone call:
"Hello, Ms. Nieder? This is the reception desk."
"Yes?"
"Did you lose a hundred-pound note?"
"A what ?"
"A hundred-pound note. Excuse me, I mean an American hundred-dollar bill. We just found one on the floor and wondered if it was yours?"
I doubt this phone exchange would have taken place in the States!
Unforgettable sights
All Nile riverboats travel the same circuit (starting at Luxor and ending in Cairo, or vice -versa), so the sights we visited were standard, but I was delighted with the excellent English-speaking Egyptologist that Sonesta had retained for me. (A knowledgeable guide makes all the difference for a tourist trying to make sense out of three millennia of history. It was confusing enough just trying to keep all the Ramses straight.)
Some specatacular highlights from my four-day, three-night tour included: Karnak Temple, the largest temple in the world, which is connected to the extraordinary Luxor Temple by a two-mile avenue once completely lined with ram-headed Sphinxes; the Valley of the Kings, which includes the tombs of the more than sixty pharaohs, including the mysterious King Tut; the Temple of Queen Hatshepsut, ancient Egypt's longest-ruling female pharaoh; and the Valley of the Queen (don't miss Queen Nefertari's tomb, if it's open); Edfu, one of the best-preserved ancient temples in Egypt; and Kom Ombo Temple, unique because it was dedicated to two gods: Horus, the falcon god, and Sobek, the crocodile god.
Final Suggestion: For a truly exhilarating way to explore Egypt consider a cruise.