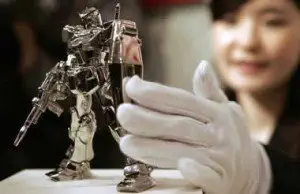 The latest venture of Bandai and Ginza Tanaka features a grand platinum Gundam, which is also known as the Gundam Fix Platinum. This platinum Gundam is 12.5-cm tall and weighs 1.4-kg. The entire body features 89 separate portions that have been assembled and guess what the head of this toy is made of 0.15 carat diamond.
This toy was brought into existence by Hajime Katoki, who is a mechanical designer and also is a great illustrator recognized for working in a variety of animations and games. This platinum Gundam was possible only after two long years of tiring efforts and process of production.
The prime aim of creating this platinum Gundam is to imbibe the elements of platinum with the persistent image of the Gundam. Ginza Tanaka has the impression that this will add to the value of platinum while Bandai wants to propagate the popularity of the Gundam's name as one of the popular animation show telecasted on Japanese TV.
The BASELWORLD 2007 will be represented by this platinum Gundam at a watch and jewelry show. One Gundam miniature is worth $41.468
Via: pinktentacle.com