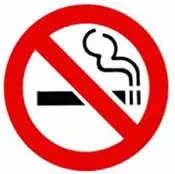 If you choke at the mention of "cigarette smoke" like I do, you'll be grinning ear to ear beginning January 2006, knowing that Westin Hotels has announced plans to ban smoking in all guest rooms, bars and public areas.
This will affect 77 U.S., Canadian and Caribbean hotels. Starting then, guests will be allowed to smoke only on balconies and in other outdoor parts of the hotel. So you'll no longer have to designate a "non-smoking" room when making a reservation. They'll all be non-smolking!
[Source: Huffington Post via TravelPost.com].