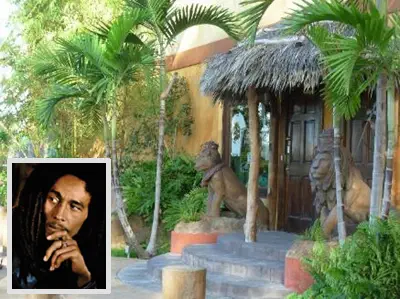 Decisions, decisions… I just can't decide if I want to stay in the "Easy Skankin" or the "Kinky Reggae" Suite.
No worries. Guess l'll have more time to make up my mind. The Bob Marley Resort & Spa Grand Opening, which was supposed to happen on the reggae superstar's birthday, February 6th, has been postponed until sometime in May.
But according to the late-musician's daughter, Stephanie Marley, they will start taking reservations in a few weeks at this luxury themed 16-suite resort (which once was the Marley family summer home) located on Cable Beach in Nassau, Bahamas. (One interesting note is that there are zero pictures of the resort on the Website… just artist's renderings, photos of Marley, etc.)
It's hard to get many details on the resort, but I did manage to find out that the restaurant is named Simmer Down, and features what Ms. Marley calls "Some of Daddy's favourite dishes," including callalo-stuffed roast fish and I-tal pepperpot soup. "I-tal" cuisine, favoured by Rastafarians, is largely vegetarian and based on natural and wholesome ingredients.
Special opening rates start at $310 up to $1200 for the Honeymoon Suite, "One Love".
W: www.marleyresort.com.
By Vagablond's Token Redhead.