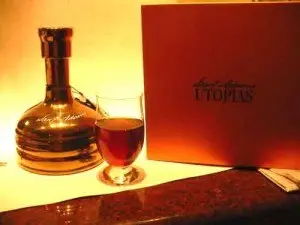 A portion of the Samuel Adams Utopias beer has been ripened in few of the most favored hand-selected Buffalo Trace Distillery based bourbon casks.
Thanks to this superior ripening process the distinctive flavors of cinnamon, vanilla, and maple in the beer.
Then sherry and Madeira casks brought from Portugal are used for the final finishing of the product. Nut, oak and honey flavors are added due to the sherry casks while rich fudge-toffee essence is added due to Madeira casks.
Loose yourself in the magical smooth taste of fruits, honey, toffee, dark coffee and molasses giving the special identity to Samuel Adams Utopias.
The Utopias brand by Samuel Adams reflects an astounding amount of alcohol content by 24% and in 2003 this amount was further increased to add to the intoxication of the beer lovers.
Add class to your collection of drinks with an expensive bottle of Samuel Adams Utopias.
Via: Beeradvocate.com