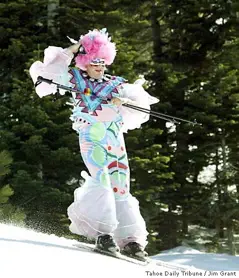 When gays and lesbians throw a glitzy ski competition and costume contest known as Ascent, you know it may be just a tad outrageous.
This Winter Party at Heavenly Valley Resort above the deep blue waters of Lake Tahoe on the California and Nevada border runs from February 26-March 5, and offers daily skiing at various resorts, including lessons, snowmobiles, lunches and apres-ski gatherings at Stateline casinos.
For info, call 866.263.4167.
For tickets, call 530.542.3632 or visit www.AscentLakeTahoe.com.