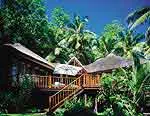 The wide array of facilities and amenities in Frégate Island Private comprise of exquisite décor and breathtaking views. The delicacies served in Frégate Island Private feature a variety of sumptuous delectable cuisines. To add to your relaxations and enjoyments the water sports and variety of activities for recreation are at your service.
The dining facilities in Frégate Island Private are Frégate House Restaurant, Plantation House Restaurant, Pirate's Bar, Anse Bambous Beach Bar, Wine & Dine Cellar. The room facilities provide you with a luxurious yet a homely ambience.
The kids in this hotel will surely have a marvelous time at the Children's Playground and the Kid Clubhouse is a special favorite with the little ones.
The Rock Spa is the place for you if you are craving for a relaxed body massage. The other activities that you can enjoy at this most expensive hotel are windsurfing, hiking, sea kayaking, snorkeling and don't miss the sumptuous BBQ experience with your loved ones.
Via: First Class Travel