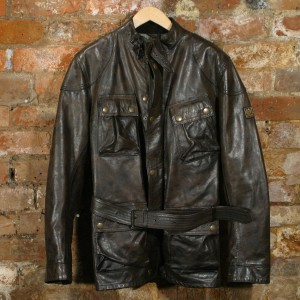 Belstaff, a deluxe British outerwear company, which is known its characteristic motorcycle jackets, is presently offering three designs, which Brad Pitt wore for the film, The Curious Case of Benjamin Button. The movie has received 13 nominations for Oscars. In the movie, Pitt wears the famous Belstaff Panther jacket when he is shown riding a vintage Indian motorcycle. That jacket is in dark brown leather.
During another scene in the movie rides a classic Triumph motorcycle sporting bomber-type jacket. This has been name as the Button Blouson. In another scene, he wears a vintage shearling-trimmed jacket. Now the companyhas revived the jacket.
You can now order all these three limited edition jackets from the official website of Belstaffs or you can buy them in the Belstaff stores. The price of the Panther is $1,205, the Shearling is $1,995, and the Button Blouson comes for $1,295. The company will donate a part of the profits to Make It Right – the Pitts Hurricane Katrina charity.
Via justluxe.com