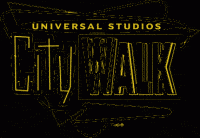 Just saw Steve Martin's "Shopgirl" flick — a poignant, triangle love story about a woman who works at Saks Fifth Avenue (Claire Danes), a rough-edged young man she meets in a laudromat (Jason Schwartzman), and an older wealthy man (Martin).
A few of Claire and Jason's dates take place at City Walk in LA, which looks pretty cool. As part of Universal Studios, it's got a lot to offer:
• A 20-screen movie theatre complex;
• An amphiteater;
• Plenty of neon lights;
• A water fountain that shoots pellets of water out of the sidewalk;
• A mini-city with lots of restaurants and clubs;
• A bunch of Studio Tours;
• Street performers;
• A bookstore (where you can buy the Shopgirl novella);
• And much more.
There's another City Walk in Universal Studios, Orlando, Florida.