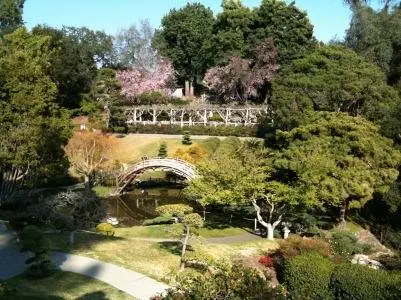 Our Fave Activites:
1. Huntington Library, Art Collections and Botanical Gardens:
One stop shopping for all your cultural needs. You can easily spend the whole day here exploring the stellar European art collection, strolling through the dozen gardens sprawled out over 120 acres. Choices include a zen Japanese Garden, the multihued Rose Garden, the Garden of Flowing Fragrance, or my fave, the remarkable Desert Garden brimming with cacti and succulents. Don't miss a visit to the Library, where there are over 6 million items on display. The weather was so gorgeous during out visit that we didn't want to be indoors, so we just snuck a quick peek at their crown jewel, an amazing Gutenberg Bible on vellum. Tummies growling, we stopped between gardens for a satisfying traditional English tea, served in the Rose Garden tea room, where we had our fill of assorted finger sammies (crust-less varieties of egg, salmon, watercress, tuna, etc.) fresh salads, fruit and cheese, yummy bite sized pastries and a steaming basket of scones with jam and whipped cream with a proper pot of tea. Tea was served buffet style and repeat trips were encouraged.
Tip: If you don't finish your scones (between the three of us we still only managed to make a small dent) they will happily bag leftovers (sweetly tied with ribbon so Sis took them home to redistribute for prezzies.)
2.Getty Museum:
The outdoor space is as wonderful as the art filled interiors of the Richard Meier-designed buildings. Don't miss a wander through the modern sculpture garden featuring pieces by Roy Lichtenstein, Joan Miró, and Isamu Noguchi. The five main galleries offer fantastic permanent collections or eclectic changing exhibitions. Check the website for what's new to view.
Tip: Unbelievably, admission is FREE!
3. The Norton Simon Museum:
The Norty-Si is famous for one of the most remarkable private art collections ever assembled– from Renaissance to 20th century masterpieces. Located in old Pasadena, our trusty concierge had plugged this into our schedule after our Huntington stop, which worked out brilliantly since the museum stays open until 9:00 PM on Fridays so we could take in their fab portrait exhibit rather than fight rush hour traffic.
4. Take the short drive from Beverly Hills to beachy Santa Monica, which has all the fun but is much cleaner and classier than Venice Beach. Be sure to try The Lobster restaurant ( surprisingly reasonable prices, given their perfect local, perched right on the pier) for their fresh-off-the boat seafood and warm bread served with a delish green pesto/ olive dipper, then stroll the 3rd Street promenade for plenty of free outdoor entertainment.
5. If you've only time for one meal outside of the hotel, head to The Bazaar by José Andrés. Few places live up to their hype but this 4 in 1: winebar, tapas bar, resto and a patisserie-which displays it's edible bling like jewels under glass, is truly amazing. Food this creative deserves to be housed in, what we think is designer Philippe Starck's masterpiece to date.
After handing us our menus, our waiter suggested we take some time to peruse the menu "as it could be a bit overwhelming."
Perplexed, I'm thinking, "We're here to eat, not take the Bar Exam."
My suggestion: Go with the Flow. Bazaar is a unique concept, definitely not a spot for your daily squares. It's yummy fun- I promise. Start with the Magic Mojitos (which I can't describe because it will spoil the surprise) and then, if money is no object (which is really the only way to dine here) just follow the waiter's lead.
6. Drive-bys. Pretend you're a distant Reagan relation and cruise through swanky Bel- Air. Palm Beach mansions, big-sky Wyoming ranches and beach houses at the Hamptons are swell, but Bel-Air homes are probably some of the grandest digs anywhere in the world. Drive discreetly, eyeball what you can and covet.