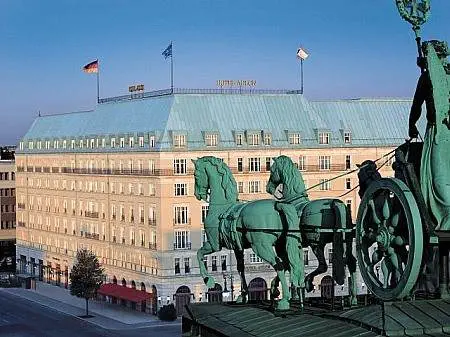 The Hotel Adlon Kempinski, Berlin's luxurious 5 star hotel which embraces not one, but three Michelin-starred restaurants, Gourmet Restaurant Lorenz Adlon, Restaurant Gabriele, and MA Restaurant. Foodies may indulge in gourmand's paradise without ever leaving hotel property. Then, when further pampering appeals, assuage caloric guilt and reward yourself with a visit to the Adlon Day Spa and work out in the posh technogym or take a yoga class with a master yogi. Almost 10,000 sq.ft. of calm, harmonious, all-white, minimalist space, housing a swimming pool, sauna, steam bath and solarium. Next, retire to a spa suite and luxuriate with one of many trademark treatments, like a fragrant Balinese massage with ginger and lemongrass. Thus rejuvenated, enjoy the remainder of the day with an enhanced sense of joie de vivre.
VIP guest list
Hotel Adlon's original owner, Lorenz Adlon, welcomed his first guest, the Emperor Wilhelm II in 1907, who demanded that "no one is to put a foot in the door before him". After his visit the Emperor was so delighted that he paid a very large annual retainer to insure that rooms were always available for his guests The grand dame played host to such luminaries as Greta Garbo (she uttered her immortal line "I want to be alone" here while filming "Grand Hotel", Franklin D. Roosevelt, Rockefeller, Bill Clinton, Obama, and Queen Elizabeth, but perhaps the most infamous sighting was in 2002 when Michael Jackson was seen dangling Blanket (the baby, not the covering) from a balcony.
Timeless elegant interior
The hotel burned to the ground shortly after WWII. Rebuilt in 1997, it reopened as part of the Kempinski chain. Guests enter through a spectacular lobby decorated with art-deco nuances, gold-plated ceiling, inlaid paneling, an intricate stained-glass dome and specially commissioned works of art. The 304 generous rooms are furnished in more contemporary style with many modern touches: satellite TV, CD players, fax machines, portable phones, and wireless high-speed Internet access. Luxurious black granite bathrooms complete the picture. Favorite touch: The shower that easily morphs into a steam bath.
Dining delights
Gourmet restaurant Lorenz Adlon's Chef Thomas Neeser recently passed the torch over to Hendrik Otto, the new Chef de Cuisine who is already winning accolades for his dazzling, often surprising culinary creations.
"It is my passion to create emotions with my style of cooking. I want my guests to have fun and provide a unique dining experience that pleases all the senses" explains this talented Michelin- starred chef.
Fun is not what we usually associates with French haute-cuisine dining, especially since a misfortunate turn of events meant I was dining there solo, surrounded by couples basking in the romantic ambiance. However, my evening became one of the most memorable dining experiences of my life, not only for the exquisite food and wine but also because the gracious, thoughtful and downright friendly service provided by world-class Maître Boris Häbel, I felt like an honored guest from the cordial welcoming glass of champagne to the final round of complementary petit dessert bite which included an astonishing horseradish marshmallow. Leave the ordering in his capable hands and the gastronomic gems that follow might include an exquisitely presented Étouffée of Pigeon served with just a bite of foie-gras ice-cream, a saddle of roe-deer encrusted with black olive paste with an ethereal cheese spätzle and a still-art rhubarb & curd dessert platter.
Restaurant Quarré
One reason to spring out of your comfy bed is to snag a window seat so you can enjoy the opulent buffet breakfast while gazing at the Brandenburg Tor. (In summer, you can sit on the outdoor patio). Taste bud tantalizers consist of all the usual breakfast treats plus sumptuous platters of shrimp and smoked fish, a variety of muesli and fruit smoothies, artfully arranged imported cheeses, and a dessert table laden with freshly baked pastries.
Incomparable Service
Service extraordinaire is walked, talked and fully performed by the impeccably trained staff. Place a wake-up call and they'll ask you if you would like a follow up call 10 minutes later, just in case you want a little more snooze. The hotel offers 24 hour laundry, dry cleaning and room service, complimentary bottled water and newspaper, limousine service, even a private butler upon request.
Accommodations are expensive, but exceedingly reasonable for the high-end experience. Check out the many exclusive packages such as the "Time to Spa" option that includes: two night's bed and breakfast, a 90-minute treatment of your choice, a plush Adlon bathrobe and slippers to take home and a surprise gift.
Hotel Adlon Kempinski Berlin
Unter den Linden 77, Am Pariser Platz, 10117 Berlin
+49 30 2261 0